DIY Essential Oil After Sun Spray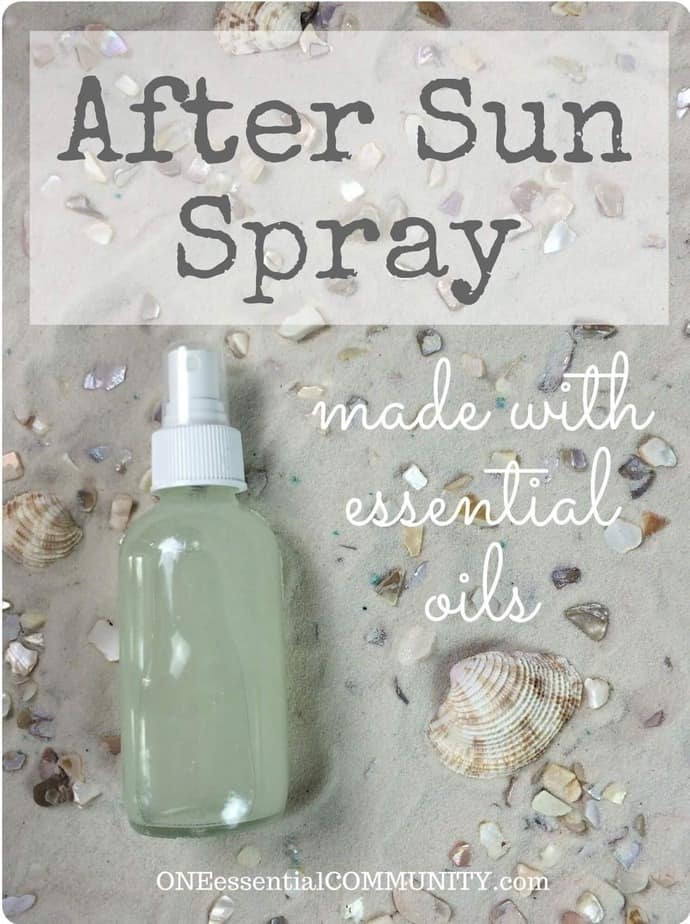 The heatwave is upon us!  Or at least me.  Currently I am sweating on my porch watching my kids play in the neighbors pool.  I would love to join them but I hate my neighbors so that won't be happening.  Seriously, they are the worst.  But at least their kids entertain mine during the summer.
While I'm on the topic of my sucky neighbors- they mow my lawn.  And not in a nice way.  The dad gets so irritated and angry that I don't mow my lawn every 5 days that he mows the parts of my backyard he can see when he is in his yard.  Who does that?  Crazy people who can't control themselves obviously…
Rant over.
Since my kids are in the sun today I decided it was time to bring back my favorite DIY Essential Oil After Sun Spray.  Now, my kids tan really easily and I always lather them with SPF 1000 sunblock so this spray is really just for me, but it does make them smell really nice (for once).  They also like that I keep it in the fridge because it feels awesome to be sprayed with after a long day in the hot sun.
I used to be addicted to after sun lotion- you know, the kind that smells like coconuts and bananas- but this stuff is way better.  Besides being all natural, theres a lot of science behind it which I learned thanks to One Essential Community:
witch hazel: refreshes and soothes skin, decreases itching, and reduces likelihood of skin peeling and flaking
aloe vera gel:  moisturizes skin, helps reduce signs of aging, soothes skin, and reduces inflammation
vitamin e oil: a great antioxidant, helps fight premature aging of skin, restores and rejuvenates dehydrated skin
fractionated coconut oil:  moisturizes skin
lavender essential oil:  soothes occasional skin irritations and rejuvenates skin
peppermint essential oil:  cooling (peppermint oil can be irritating though so don't use too much)
How to make it:
Pour 2 tablespoons of Witch Hazel into a glass measuring cup
Add:
1/4 cup aloe vera gel (make sure it's all natural)
1/2 teaspoon vitamin E oil
2 tablespoons fractioned coconut oil
10 drops lavender essential oil
2 drops peppermint essential oil (use spearmint oil instead for kids under 6)
Mix well and pour into a spray bottle
Pop it in the fridge or throw into your beach bag and enjoy
Your skin will be so happy when you use this spray.  Let me know what you think!  And, if you are unfortunate enough to wind up with a nasty sunburn, try these natural recipes to help them heal quicker with less pain.
Enjoy the heat!
Colbie