Sweet Summer Strawberry Pie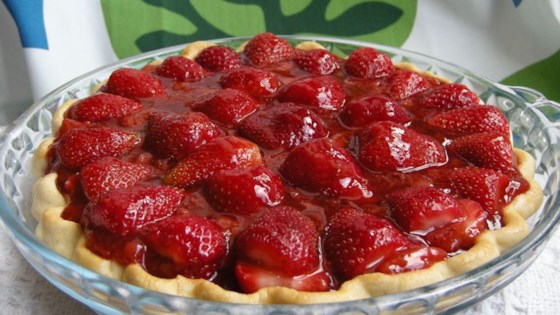 Before we start the trek into delicious land, let me put the disclaimer that none of these pictures are of the pie I made recently.  In fact, my pie turned out kind of ugly…
While my pie was not attractive, it was so amazingly delicious.  I made it with a gluten-free pie crust for my hubby's birthday so the whole family could enjoy a slice.  That being said, I hate the word hubby.  I think I actually gagged while I wrote that.  Ew.
My husband doesn't like cake.  He also doesn't like brownies or cupcakes or chocolate.  So besides being a pain in the ass, he is also a crazy person obviously.  He does like fruit though, so fruit pie it is for all special occasions.
I'm not the best at making fruit pies.  I actually might be the worst.  They always seem to turn out too runny or too sour or too sweet.  Fruit is just finicky, I guess.  Maybe it's just me.
I have tried to make a mixed berry pie at least a dozen times and every one has ended in the trash.  But let's be honestly, the trash can was a far better place for those pies than in anyones stomach.
Finally, I gave up on mixed berry pie.  Good riddance.
Enter strawberry pie.
I was eager to mess this one up.  Maybe my confidence led me down the path of enlightenment, the path to making delicious fresh fruit pies?
Actually, I think it was my grandma.  I looted her box of recipes and found a wrinkly index card shoved in-between stewed tomatoes and string beans.  Written in some kind of grandma code shorthand was my saving grace of strawberry pie.  I warned my family that I was attempting another fruit pie and started working while listening to groans and sarcastic comments.  Apparently I have taught my children well…
Basically, what I am trying to say is that if you suck at fruit pies like me, then give this one a try.  I think you will be pleasantly surprised just like my whole family was.
Equally as easy and delicious, try this homemade cherry pie for extra summer sweetness!
Enjoy!
Colbie
Recipe Ingredients
1 9in pie crust, baked
1 1/2 quarts fresh strawberries
1 cup white sugar
3 tablespoons cornstarch
3/4 cup water
1/2 cup heavy whipping cream
Recipe Instructions
Arrange half of strawberries in baked pastry shell.
Mash remaining berries and combine with sugar in a medium saucepan.
Place saucepan over medium heat and bring to a boil, stirring frequently.
In a small bowl, whisk together cornstarch and water.
Gradually stir cornstarch mixture into boiling strawberry mixture.
Reduce heat and simmer mixture until thickened, about 10 minutes, stirring constantly.
Pour mixture over berries in pastry shell.
Chill for several hours before serving.
Once ready to serve- in a small bowl, whip cream until soft peaks form.
Serve each slice of pie with a dollop of whipped cream.
Recipe Notes
For an extra delicious pie, use farmers market strawberries-- I don't have to tell you how much better they are than store bought.