Pickle Everything Pickling Party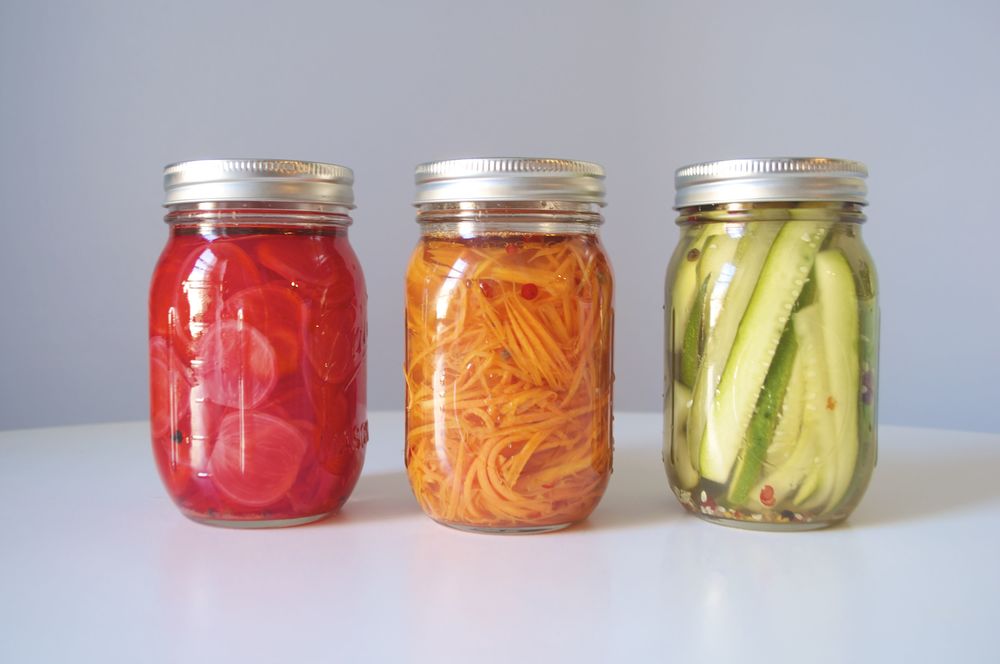 Today I am going to talk to you about pickling.  Oh, you already knew that?  I didn't need to say anything?  It is already obvious what my agenda is?  Well, you are not uninvited to the pickling party you negative Nancy.
Summer is at it's peak (in Maryland at least) so that means all the fruits and veggies I have been growing in my poorly tended, make-shift, planter garden need to be picked and used.  And since I am lazy, this means I am just going to pickle a ton of stuff.
It really is the least I can do to share all the fun pickling recipes I found with you!  At least, those of you who accepted my title and didn't give me any lip.
Get your Mason jars out everyone and lets have a pickling party!
Of course, we have to start with delicious and easy
Dill Pickles
(I also use this recipe for carrots, radishes, green beans, and cauliflower)
Thank you to The Yummy Life for this awesome recipe!
Ingredients
4 lbs pickling cucumbers
3 cups apple cider or white vinegar (or combination)
4 cups water
1/4 cup pickling or kosher salt
2 tablespoons sugar or honey (optional)
12 fresh dill sprigs and/or heads
12 garlic cloves
6 teaspoons dill seed
3 teaspoons black peppercorns
1-1/2 teaspoons red chili flakes
Directions
Wash cucumbers well. Slice 1/8 inch" off both stem and blossom end. Small cucumbers may be left whole. Larger cucumbers may be sliced into 1/4″ rounds; or they may be quartered lengthwise into spears, making sure they are shorter than the jars.
Add vinegar, water, salt, and sugar to medium saucepan. Bring to boil over high heat, stirring until salt and sugar are dissolved. Lower heat and cover until ready to use.
Add to bottom of each hot, clean jar:
–sprig of fresh dill (optional)
–2 garlic cloves
–1 teaspoon dill seed
–1/2 teaspoon black peppercorns
–1/4 teaspoon red chili flakes
Add cucumbers, packing them as compactly as possible without crushing them. Add dill sprig/head on top. Ladle hot vinegar mixture into jars, leaving 1/4″ headspace. Place chopstick or bubble remover tool down side of jar and pull towards center to remove bubbles; refill jars with additional liquid, if necessary. Clean jar rims with wet paper towel. Add lids and screw on rings just until finger tight.
For refrigerator pickles, place jars in refrigerator and allow to marinate at least 3 weeks for the best flavor. They will be good for several months.
For water process canning of pickles:
Process jars in boiling water canner for 10 minutes. Remove canner lid and turn off heat, leaving jars in hot water for 5 minutes. Remove jars and rest on towel, undisturbed for 12 hours. For the best flavor, allow pickles to stand for 4-6 weeks before eating.
Store jars in cool, dark place. They are shelf stable for at least 1 year.
Next up, Green Cherry Tomato Pickles
I love simple refrigerator pickle recipes.  Thank you Recipe Fiction!
Ingredients
whole green cherry tomatoes- big enough to have some seeds but still completely green

equal parts white wine vinegar (5% acidity) and distilled water- estimating a cup of liquid per pint of pickles, this will vary depending on how tight the tomatoes are packed in the jar and their size, you need enough to cover the tomatoes completely.

kosher salt- 2 tablespoons per cup of liquid

fresh garlic cloves- peeled and cut in half- four cloves per pint

hot red peppers, either dried or fresh- two whole peppers per pint

whole peppercorns- about a teaspoon per pint

dill seed- about a half teaspoon per pint

bay leaf-one per jar

whole mustard seed-about a teaspoon per pint
Directions
Pick the tomatoes and measure them to see how many jars are needed, adjusting accordingly.

Wash the tomatoes and sterilize the appropriate amount of jars and lids.

Combine the vinegar, water, and salt and bring to a simmer

Place garlic, red peppers, and other spices in the bottom of each jar and then top with the tomatoes, packing them as tightly as possible without crushing the tomatoes.

Top each jar of tomatoes with the hot brine, poking with a chopstick to remove any air bubbles, add more brine if necessary and then seal the jars with the sanitized lids and bands.

Refrigerate immediately.

The flavor will take at least a week to develop, I like to aim for a minimum of two.
These will keep for about 1-3 months.
Let's throw in some spice with Banana Peppers 
So good on pizza!  Thanks The Country Cook!!
Ingredients
2

cups

white vinegar

2

cups

apple cider vinegar

1

cup

sugar

1

tsp

mustard seed

1

tsp

celery seed

1

lb

banana peppers

seeded & sliced into rings
Directions
Bring the vinegar, sugar, mustard seed and celery seed to a rolling boil.
Pour brine over peppers to within ½" of the top.
Wipe off the rim and put lid and ring on.
Store in the fridge.
Leave for 1 week or longer to let peppers marinate (if you can wait that long!)
Finishing off with my favorite!!
Pickled Blueberries
I cannot even contain myself these things are so good!
I throw them into salads, yogurt, and sometimes just eat them with a spoon… okay, more than sometimes.  Thank you Saveur!
Ingredients
 cup distilled white vinegar
1⁄4 cup sugar
1 3⁄4 tbsp. kosher salt
1 1⁄

2

 lb. blueberries
 small red onion, thinly sliced
Directions
Whisk vinegar, sugar, salt, and 1⁄4 cup water in a medium bowl until sugar and salt dissolve.
Add blueberries and onion, and cover with plastic wrap.
Refrigerate overnight before using.
Let me know what you think of these recipes and what other things you like to pickle!
Click Here To Read Another Great Article From Our Friends at morningchores.com  
Enjoy,
Colbie